Newsletter
The veterinarians and staff at Greece Animal Hospital are pleased to provide you with an online newsletter. This fun and fact-filled newsletter is updated on a regular basis.
Included in the newsletter are articles pertaining to pet care, information on our animal hospital, as well as news on the latest trends and discoveries in veterinary medicine.
Please enjoy the newsletter!
Current Newsletter Topics
VIDEO: Controlling Ticks
Most people would be happy to live out their lives never having to see a tick. These eight legged parasites invoke almost as strong of a negative reaction as spiders do. However, dog owners especially need to be aware of the potential for their pet to acquire ticks and the possibility of their dog contracting a serious tick-borne disease. As vectors of Rocky Mountain Spotted Fever, tularemia, and Lyme Disease, ticks can be found in every state and have even been known to survive longer than a year. Due to the small size, many ticks will go unnoticed by pet owners. Fortunately, veterinary science has several options available to protect our pets. Watch this video to learn more.
Scientists Discover Genetic Cause of Compulsive Behavior in Dogs
Do you have a dog that can't stop chewing or licking its own flanks? Compulsive behavior such as tail chasing, pacing, chewing, snapping at imaginary flies, or sucking on blankets affects approximately 8 percent of the dogs in the U.S. Obsessive-Compulsive disorder also affects humans and causes behaviors like excessive hand-washing, checking and rechecking door locks, and even pulling one's hair out.
In a recent study at the Cummings School of Veterinary Medicine at Tufts University, researchers compared the genetic codes of a group of Dobermans that exhibited the compulsive behaviors and a group that didn't. The Dobermans in the compulsive group repeatedly curled up and sucked or chewed their flanks. The groups were labeled "sucking" and "nonsucking" for identification.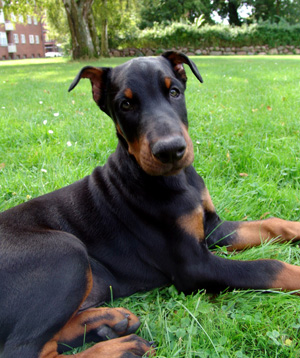 The dog genome was successfully mapped by this same group of researchers last year, giving a big boost to genetic studies in humans. Heart disease in Boxers was mapped to a genetic characteristic on one chromosome. Applying this information to the human genome may have saved researchers ten years in the study of heart disease in humans.
Building on this previous research, scientists searched for a genetic source for the compulsive behavior by scanning and comparing the genomes of 94 Doberman pinschers that sucked their flanks, with those of 73 Dobermans that did not. The researchers found variations in the genetic code on chromosome 7, specifically in a gene called Cadherin 2, when the sucking and nonsucking dogs were compared. Knowing the location of the gene that caused the compulsive behavior allows further research into specific proteins that may be involved in the development of this disorder.
The results, says Dr. Nicholas Dodman, director of the animal behavior clinic at the Cummings School of Veterinary Medicine at Tufts, have implications for both humans and dogs. Using this new information, the genetic defect might now be mapped in the human genome. This means we may be able to find the genetic cause of obsessive-compulsive disorder, and possibly other disorders -- such as autism -- which are closely related.
Since the mapping of the Boxer's genome, researchers have rushed to see what implications the new information has for human medicine, as the painstaking process of mapping the human genome continues. The information gained from the dog genome has allowed researchers to take shortcuts in investigating genetically caused disorders in humans. It seems the Doberman and the Boxer have helped advance human medicine by leaps and bounds.
Do Cats Care About Their Owners?
A new study suggests that cats have little regard for their owners. Researcher Daniel Mills, a professor of Veterinary Behavior Medicine in the United Kingdom, says that while dogs form an attachment to their owners similar to the one children form with their parents, cats are more likely to see their owners as a provider of resources, not a provider of safety.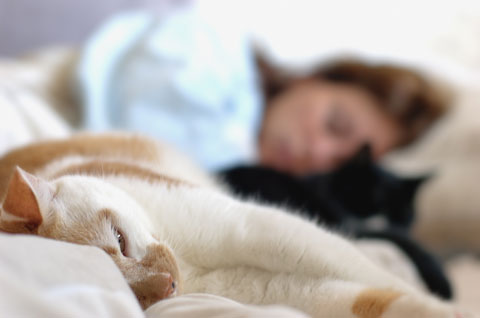 The experiment mimicked one performed in the 1970s, where children were briefly separated from their parents and then reunited. When the children saw the parents after the separation, they were immediately drawn to the parent in most cases. The experiment with dogs produced similar results. Cats, however, did not appear to care whether or not their owner was present. "Clearly cat owners love cats," said Mills. "It's difficult to say whether or not cats love back."
Dogs for Diabetics
Nothing causes greater worry in a parent than to have his/her child at risk for harm. Parents of diabetics know this anxiety well as the risks of hypoglycemia (low blood sugar levels) can occur at any time and result in deadly consequences. Fortunately, continuous research studies and programs help insulin-dependent diabetics manage their insulin therapy and lower the risks of a hypoglycemic reaction. And surprisingly, the friendliest blood glucose detector on the market? Dogs.
Living with Risk
As many as three million people have Type 1 diabetes (T1D), an autoimmune disease in which a person's body stops producing insulin. The disease does not discriminate; T1D strikes both adults and children with equal vigor. It develops suddenly, causes dependence on insulin injections, and carries with it the constant threat of devastating complications.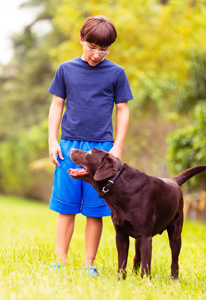 Living with T1D is a constant challenge as individuals must carefully balance injected insulin doses with eating, drinking, physical fitness and other activities. Even with careful monitoring, people with T1D still run the risk of dangerous high or low blood-glucose levels, both of which can be life threatening. The disease can be particularly threatening to babies/young children, newly independent young adults or single adults living alone for the simple reason that it is difficult for these individuals to communicate and/or respond to dangerous complications.
Common Scents
It takes more than common sense to know when an acute attack of hypo or hyperglycemia is about to strike. A relatively new growing class of service dogs is emerging to help diabetic patients predict when blood glucose levels are falling suddenly or unexpectedly. Evidence suggests that these trained dogs can react with an accuracy and speed that beats medical devices such as glucose meters and continuous glucose monitors. Studies have shown that dogs may be able to identify the onset of hypoglycemia up to 30 minutes ahead of it being registered by a glucose meter. With their acute sense of smell, dogs (especially retrievers) are able to react to the chemical scent produced by falling blood sugar levels.
Tangible (and Intangible) Benefits
Clearly, a service dog's companionship for a diabetic has real and tangible benefits to the patient. The dog is a constant guarantor that, even in a medical crisis, lifesaving measures will be taken. In this case, man's best friend is truly a very best friend.
However, there are also not-so-readily-viewable advantages to having a service dog available for diabetic patients. When a child has T1D, his mother tends to spend many a night on high alert. Assistance dogs allow parents to rest comfortably while the dog keeps watch. They can also help newly independent college students live away from home without parental oversight. Moreover, an elderly adult living alone with diabetes can also be comforted knowing that her loyal companion is an extra component in her support network. Dogs' capabilities and reliability in recognizing the impending dangers of hypoglycemia offset the ever present worry that sidles up next to diabetic patients who live with this disease. And not only do they comfort the owners but also those who care about the diabetic.
Further Information
If you or someone you love suffers from diabetes and is interested in this type of assistance, please contact your physician or one of our veterinarians. There are several organizations available that provide service dogs for diabetics, including www.dogs4diabetics.com, www.eenp.org/main/diabetic, www.alertservicedogs.com.
Lyme Disease: Seven Myths You Should Know
Lyme Disease: Seven Myths You Should Know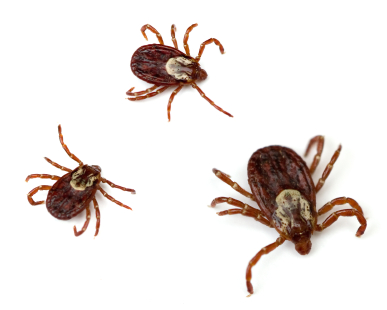 April is Prevent Lyme Disease in Dogs Month.
It is important to understand the risks your pet faces when it comes to ticks. Common misconceptions can lead pet owners to avoid the right preventative measures needed to protect beloved pets from Lyme disease. Here are a few persistent myths dispelled:
Myth 1: I don't live in a wooded area, so my pet can't get ticks.
Even if your pet doesn't play in wooded areas and places with high grass or brush where ticks are commonly found, ticks are actually able to live their entire life cycle within your home. Woodpiles near or inside your home provide the perfect environment for ticks to survive. Small rodents such as mice can also transport the ticks indoors. Even if ticks don't make their way into your home, they can still live in low grass and trees—such as the back yards of most suburban homes.
Myth 2: I haven't seen any ticks on my pets, so they aren't at risk.
Often ticks are only easily visible on your pets once they're engorged. However, the tick's life cycle includes the larva and nymph stages where they're not as easily noticed. Even when adult ticks have been removed, they may have already laid eggs on your pets, continuing the tick infestation.
Myth 3: I've only found a few ticks on my pet, so I'm sure he's fine.
You can be diligent about checking for and removing ticks, but it still only takes one tick bite for a pet to contract Lyme disease. When you find ticks on your pet, there's a good chance the pet has had other ticks that you have missed.
Myth 4: I apply a flea and tick preventive to my pet monthly, so I don't need to worry about Lyme disease.
No prevention medication is 100 percent effective. Talk to us about your pet's habits and environment, and we can discuss whether you need to take additional steps to prevent Lyme disease.
Myth 5: During the colder seasons, I don't need to worry about applying flea and tick prevention.
Because most insect populations decrease once cold weather sets in, you might assume ticks will follow suit. In reality, ticks are much hardier—and their population can increase during the fall season. Ticks can also survive through the entire winter even when frozen in the ground. For the best protection, continuously apply preventives throughout the year, including the colder months.
Myth 6: My pet was treated for Lyme disease, so now she's cured.
Once your pet is diagnosed with Lyme disease, an antibiotic is usually prescribed. Do not assume that once the antibiotic course is finished, the Lyme disease is cured and your pet is no longer at risk of experiencing Lyme disease symptoms. It can take multiple courses of an antibiotic to successfully treat Lyme disease. Any pet diagnosed and treated for Lyme disease should be routinely screened for tick-borne diseases every year.
Myth 7: My pet has already contracted Lyme disease, so he can't receive a Lyme disease vaccination.
Pets that have been treated for Lyme disease run the risk of reinfection, so it's important to continue applying preventives and check pets for ticks. Another preventive measure is to have your dog vaccinated against Lyme disease. Although there are more benefits to giving the vaccine before exposure occurs, the vaccination will help prevent reinfection.
Send Your Pet's Ashes To Space
A company called Celestis is now providing a way to memorialize pet by allowing their remains to boldly go where no pet has gone before: outer space.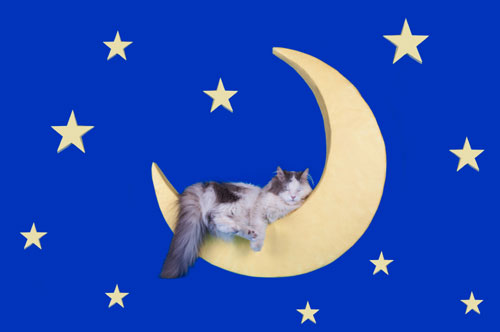 The company has already been sending human ashes into space, but only recently started offering its services to pet ashes. Pet owners can send the cremains anywhere from just outside the earth's atmosphere to the moon. The company plans to launch its first pet cremains into space in the fall.